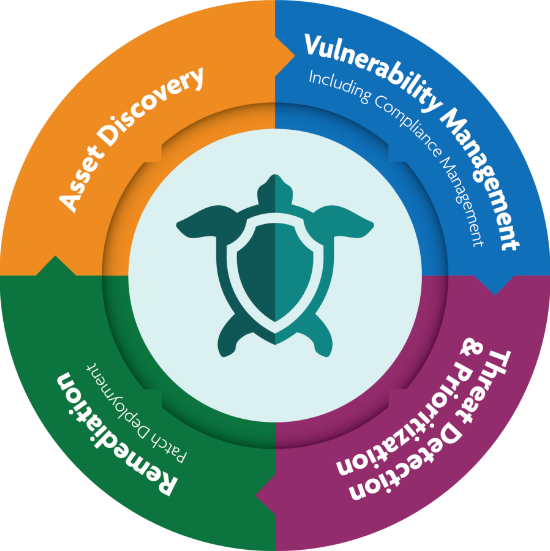 ConnectSecure—the most comprehensive way to harden your attack surface
Dynamic threats call for a dynamic approach. So we created the only vulnerability scanning & compliance management tool designed and priced specifically for MSPs and MSSPs to support their small-to-medium-sized clients (SMBs). Best practices are built in, for your ease of use.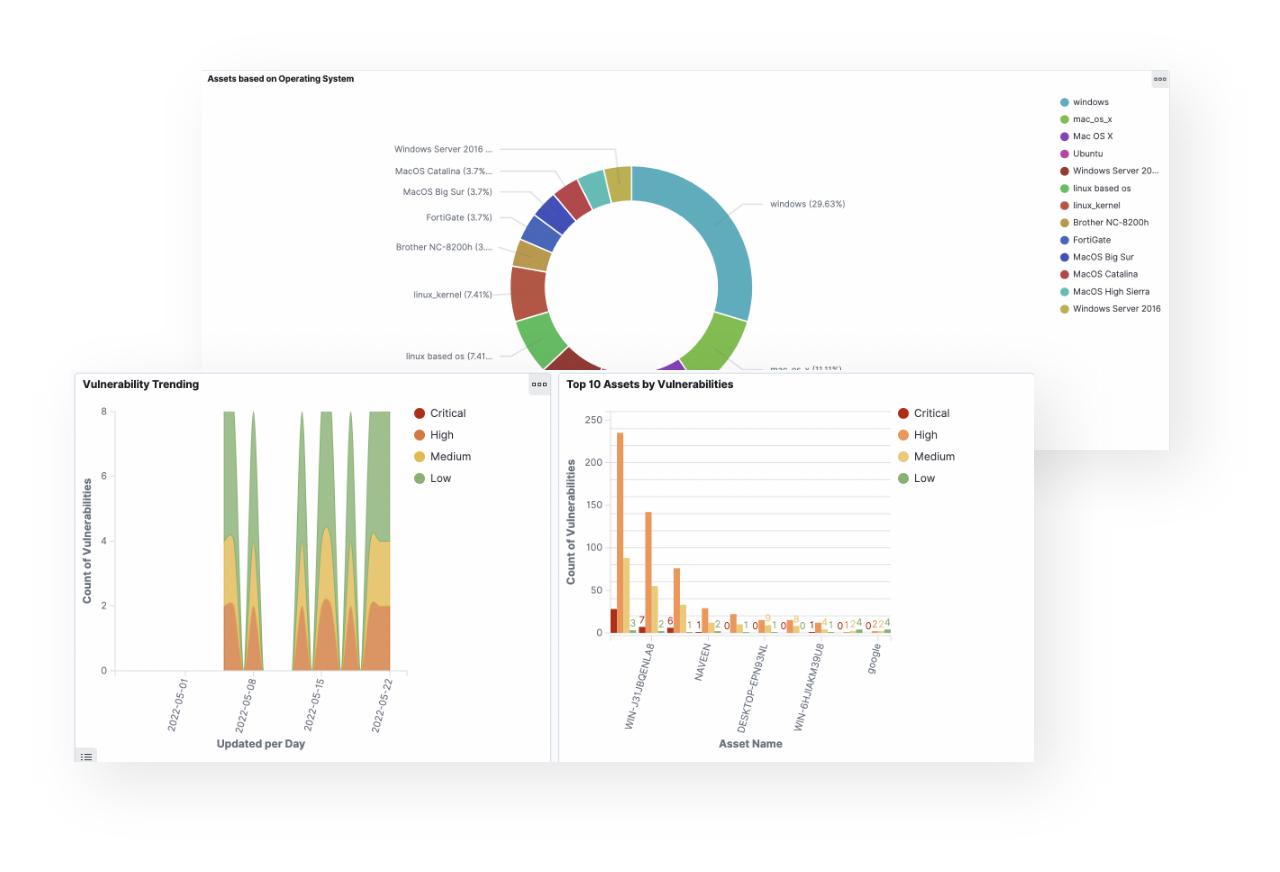 Flag security vulnerabilities and compliance gaps
with confidence
Unlimited visibility brings optimal security. Whether ad-hoc or continuous and automated, the ConnectSecure vulnerability scans captures hardware, software, and networks, including internet-facing vulnerabilities, open ports, and exposed systems. Expert curated vulnerabilities reduce false positives.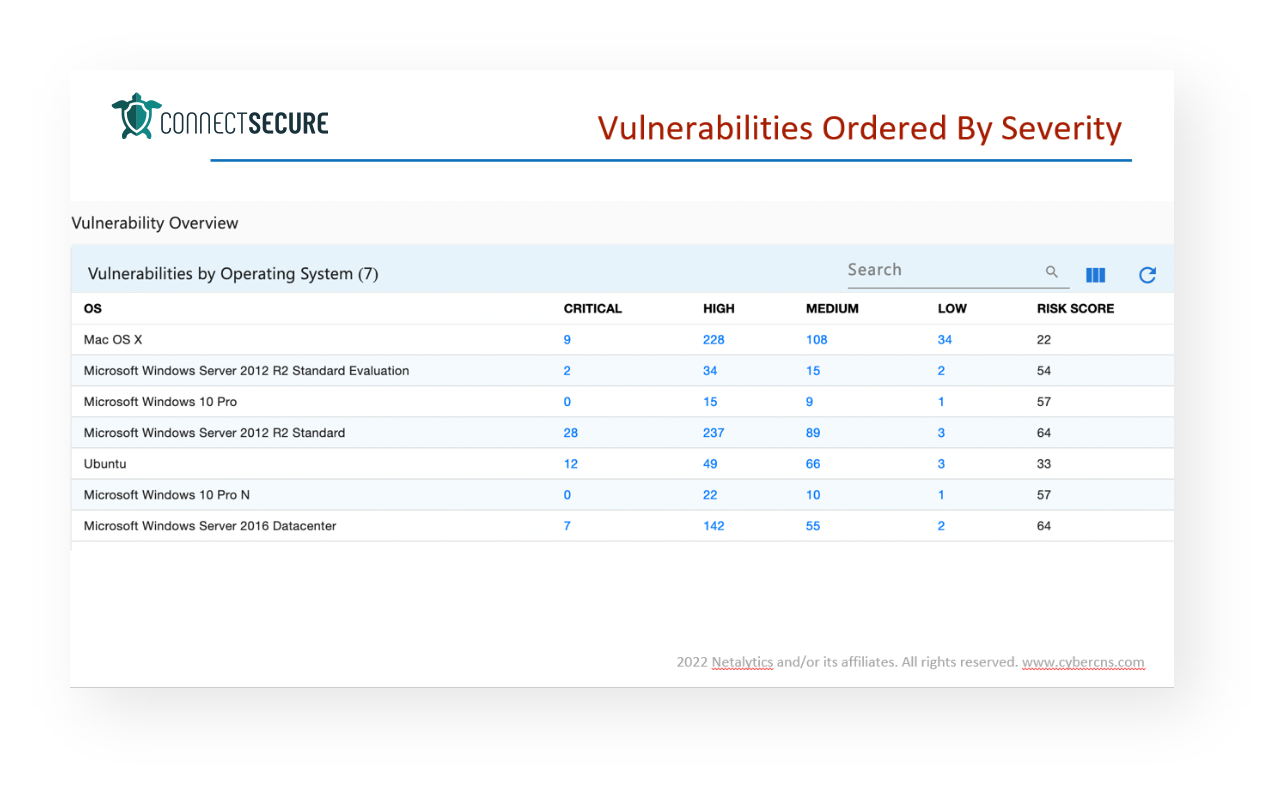 Prioritize multiple client and asset vulnerabilities
with one look
High-risk vulnerabilities require immediate action. ConnectSecure categorizes everything so you always know what should take priority. A single, multi-tenant interface for all your clients and assets gives you instant access to the information you need to activate vulnerability remediation with minimal effort.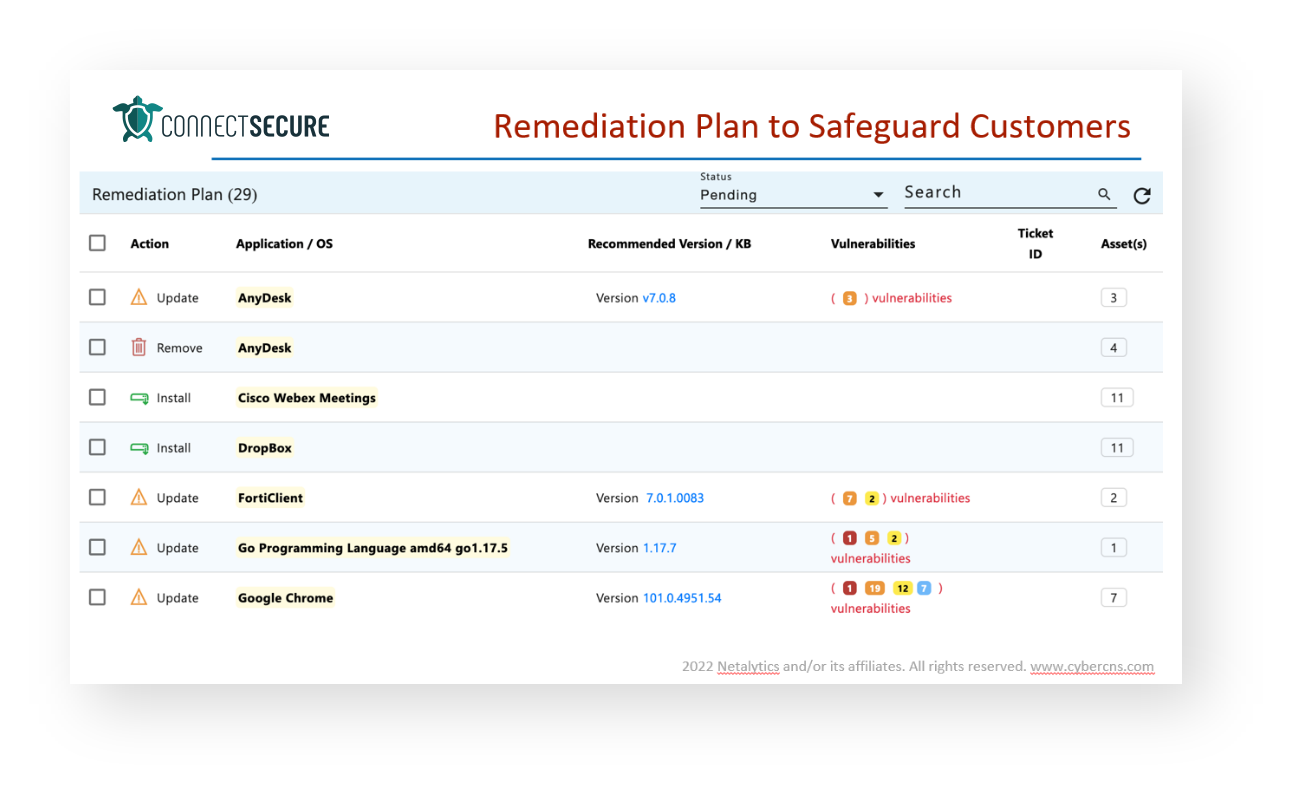 Prove your stance to clients
visually
Easy-to-understand reporting is essential to busy MSPs. With customizable client dashboards and automated reporting, ConnectSecure does the heavy lifting while you take all the credit. Helping your clients prepare for regulatory assessments has never been easier.
The single most comprehensive cybersecurity scanning platform available
Vulnerability Management
Proactively identify and address security weaknesses, reducing the risk of cyberattacks and potential data breaches.
Compliance Management
Ensure your clients are in compliance with PCI DSS, HIPAA, GDPR IV, NIST 800-53, NIST 800-171, CIS, CIS 8.0, ISO 27002, Cyber Essentials, and Essential Eight.
PII Scanning
Safeguard personal information from cyber threats, ensuring the privacy and security of individuals and organizations.
Patch Management
Ensure that software vulnerabilities are promptly addressed, minimizing the risk of security breaches and protecting valuable data.
Details 
Device, Network & Application Discovery
Use our network probe technology to discover all the IP-based assets on your network(s).
Attack Surface Scanning
Perform external Deep Attack Surface Scans to identify and address vulnerabilities in digital infrastructure and enhance overall security.
Active Threat Management
Provide enhanced protection with EPSS (Exploit Prediction Scoring System) against evolving cyber threats through proactive monitoring, detection, and response measures.
Local Active Directory Auditing
Use on-site AD scanning to detect and prevent unauthorized access, enforce MFA, and provide Office 365 Risk Scoring.
Cloud Active Directory Auditing
Use Azuree AD scanning to detect and prevent unauthorized access, enforce MFA, and provide Office 365 Risk Scoring.
Application Baseline Audit​
Harness the power of comprehensive software system assessment to proactively reduce vulnerabilities, and monitor both the required and denied software services across all assets.
One Agent for Everything, on Anything​
Simplify your security management by having one agent that works on all operating systems (MS, Linux, Raspberry PI, Mac).
Details 

Role-Based Ready Reporting​
Drag and drop to provide well-designed, customized reports in MS Office formats for technical and management reviews. A white label option is also available.
ConnectSecure

RapidFire Tools

Qualys

Tenable

Asset Discovery and Scanning
Automated SSL Checks (Ciphers and Protocols)

Azure Active Directory Users and Groups Compliance

X

X

External Scans

Intune

X

X

X

Local Active Directory Users and Groups Compliance

X

X

Office 365 Assets and Secure Score

X

X

Port Scans

SMB/CIFS Shares

X

X

Software Inventory

X

Application Baseline Scan

Web Vulnerability Scanner

X

PII Scan

EPSS Scoring

X

Supported Operating Systems
Linux (Ubuntu/Redhat/CentOS/AmazonLinux)

Mac OS

Windows Vulnerabilities

Dashboards and Reporting
Automated Monthly Review Presentation

X

X

X

Build Your Own Report

X

Centralized Dashboard

Predefined Reports

Remediation
Software Patches and Updates Check

Architecture and Infrastructure
Unified Agent

X

X

User and Role Based Access Control

X

X

X

Flexibility
Configurable Notifications

X

Configurable Schedulers

X

Single License covers all Assets

X

Subnet Scan

Extensibility
Lightweight agent to run with RMM tools

X

Rest API

X

Webhooks support

X

X

X

Compliance
Compliance Scans (NIST, CIS, GDPR, PCI DSS, HIPAA, Cyber Essentials, Essential Eight)

X

X

X

Compliance Assessments

X

X

X
Available only as an additional module
No CVE
| Up to 2,500 Devices | Up to 5,000 Devices | Up to 10,000 Devices | Over 10,000 Devices |
| --- | --- | --- | --- |
| $299.00* per mo | $499.00* per mo | $999.00* per mo | Contact Us |
* Pricing subject to change without notice.
Flag cyber vulnerabilities—and know exactly how to remedy them
Want to see ConnectSecure in action? Sign up for a free trial!